The Marine Firefighting Institute
Please do not reprint in any form without the permission of the author.

Marina Fires - We've got'cha COVERED!

By Tom Guldner
"Retroactive codes needed for marinas. Present day building and fire protection codes enable emergency services to effectively deal with a large part of the marina fire problem. Had the very minimum of fire protection equipment, such as an automatic fire detection system, been installed in the covered slip area, the outcome most probably would have been drastically different. Fire service personnel who were actively engaged in this incident unanimously agree that such a tool is urgently needed, especially when one considers that there are many similar facilities in Maryland as well as elsewhere." 1
The above paragraph is taken from a report sponsored by the United States Fire Administration. A valid point is made to make sprinkler requirements retroactive for covered marinas. The marina fire in this study ultimately cost more than ten million dollars in damages. This report was written in 1989!!!
Photo courtesy of Colonial Beach,VA FD
Have these recommendations been taken seriously? Have there been any changes in national policy or local building codes in reference to retroactive sprinkler requirements for covered piers and slips? Unfortunately they have been ignored.
In 2002 there were at least four, multi-million dollar fires in marinas in the United States, which involved covered piers and slips. Here are some quotes from newspaper accounts of these fires:
"After igniting the dock roof, the fire quickly jumped from boat to boat." 2
"When it got to the roof, it just exploded,"
Johnson said. "Within three to five minutes, the whole thing was on fire." 3
"We ran with fire extinguishers but couldn't get near it," said owner Kyle Schick, who added he was chased back up the dock by sheets of flame fanned by high winds. 4
"Witnesses marveled at the speed in which the covered boat slips, believed to be among the largest under a single roof in the Chesapeake Bay, caught fire and burned." 5
"It marched down the covered slips in only a few minutes" 6
The idea of no one paying any attention to crucial recommendations regarding fire protection from fire professionals is not new, however it is time for that to stop. Any marina fire presents a major fire exposure problem, even without covered piers. Often a fire has spread to many boats prior to the arrival of the Fire Department. However, once on the scene, an organized and coordinated firefighting attack can usually bring this fire under control. On the other hand, a fire in a marina with covered slips and piers will usually spread so rapidly that, upon arrival of the firefighters, it will have already involved a major portion of the marina and can overwhelm the land based fire forces as well as severely limit any fire attack.
Why are fires involving these covered piers so difficult? The main reason is that the heat from this fire is not dissipated,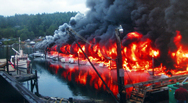 as it would be in an uncovered boat slip. The build up of heat will be trapped by the roofed-in pier and then forced to race along the underside of this roof. From this point the trapped fire and heat will extend to all of the boats under its cover by radiation, auto-exposure, or by flaming material falling from the roof. The trapped radiant heat will also prevent other boat owners and marina staff from approaching the fire close enough to use their fire extinguishers. In many cases the extinguishers are dropped as their operators race away to try to outrun this advancing inferno.
The answer to this dilemma is an automatic sprinkler system, which will immediately begin extinguishing the fire and preventing, or at least limiting the fire's spread. Even if the initial fire is not completely extinguished, the total volume of fire should be kept to a level that is manageable by responding firefighters. These sprinkler systems need to be mandated retroactively. The NFPA currently recommends sprinkler protection in some new covered slip construction. This should be expanded to include all covered marina slips whether new or existing.
If possible, I would also recommend a secondary water source such as an automatic pump set to draft water from the marina should the primary water source fail. In colder climates, automatic "Dry Pipe" systems could be installed.
In addition to the sprinklers, another measure that might help to retard the overwhelming advancement of a fire in a covered slip, might be to build "firebreaks" into the roofs. This would involve leaving sections of these long slips uncovered at intervals to allow the heat and advancing fire to vent to the atmosphere and possibility stop the fire's travel at that point. Caution: This measure cannot be taken without first consulting an architect or structural engineer. Roofing material, like plywood sheeting on walls, may be acting as a structural member. Removal of the roofing material without expert guidance could result in structural failure.
Firefighters usually learn something new each time they go to a fire. It is unfortunate that our legislators refuse to take advantage of the lessons learned at these fires by not enacting legislation and codes to prevent re-occurrences of these same construction shortcomings.
1.Jan 6, 1989 United States Fire Administration, Technical Report Series $10 Million Marina Fire, Bohemia Bay, Maryland This is Report 026 of the Major Fires Investigation Project conducted by TriData Corporation under contract EMW-88-C-2649 to the United States Fire Administration, Federal Emergency Management Agency.
2.Flames destroy boats at Seattle Yacht Club By Sara Jean Green Seattle Times staff reporter
3.Logistics woes slowed response to yacht club fire By LEWIS KAMB SEATTLE POST-INTELLIGENCER REPORTER Thursday, January 31, 2002
4.Fire Engulfs Marina by Lawrence Latane III Times-Dispatch staff writter, May 1, 2002
5.Ibid
6.Ibid
The Marine Firefighting Institute offers a seminar entitled "Small Boat and Marina Fires". Is your Fire Department, Marina staff, or Police marine unit ready for a marina or boat fire? Email us today for information about this important seminar. You can also call us to consult on creating or evaluating your marina's fire prevention/protection measures.
Stay safe,
Tom Guldner (FDNY ret.)

Please leave you comments about this article (Good or Bad) in my Guest Book Or give me your comments about any future topics you would like to see.

Why not have MFI deliver one of our Marine Firefighting presentations at your next seminar, convention, or training session?
Don't forget that we can also consult with your Fire Department or Shipping Company on setting up your own ongoing Marine Firefighting Training program or Port emergency scenario. E-mail us now!
MarineFires@aol.com

To subscribe to our newsletter notification service enter your Email address below.

Previous Newsletters:

Newsletter # 1 "Marine Firefighting Training, Who needs it!"

Newsletter # 2 "Shipboard Basics"

Newsletter # 3 "Straight Stream Vs Fog Stream"

Newsletter #4 "Immigrants in Shipping Containers"

Newsletter #5 "Hazards of Refrigeration in the Shipping Industry"

Newsletter #6 "Stability at Shipboard Fires"

Newsletter #7 "2 in 2 out at Shipboard Fires"

Newsletter #8 "What Happened To the Air"

Newsletter #9 "What Else Can Fireboats Do - WTC Response"

Newsletter #10 "Port Security - Are We Missing the Boat"

Newsletter # 11 "Let the Coast Guard Handle It"